SSC - GD
Best SSC GD Coaching in Jaipur
Power Mind Institute is an emerging institute in SSC GD Coaching in Jaipur. It starts with a motive to provide the best quality study material, the best team of faculties and also an environment for students for the best study. Students get all types of exams like online/offline test series, daily test etc. It also deals in SSC CGL Pre & Mains, SSC CHSL, SSC MTS, SSC-CPO, CDS, BANK SBI-PO, SBI-CLERK, IBPS-PO, IBPS-CLERK, RRB-PO, RRB-Clerk exams, Railway Loco Pilot, Technician, and Group D, RPF/RPSF, RAJASTHAN POLICE & DELHI POLICE. Power Mind Institute has started Special English/Maths Batches and also initiated New SSC, Bank & Railway Batches. We have also started Technical Classes for SSC-JE, AVVNL, JVVNL, RRB-J.EN. & A.EN.
Why Power Mind Institute is best in SSC GD Coaching in Jaipur because we provide the best facilities. Give a look at our facilities mentioned below:
Scientific Method of teaching more than 16 hours+ scheduled commitments daily.

Daily Test Series (Daily test series, weekly test series) + solution classes.

A Doubt counter separate faculty for problem solution.

Complete updated study material based on the current pattern of examinations.

In-depth subject knowledge and competitive skill by the best faculty in the field.

Regular assessment & timely completion of syllabus.

Free library facility from 6 AM to 10 PM.

Booster classes after completion of syllabus.

Dedicated, committed and highly qualified faculty panel.

Comprehensive, focused and structured study material.

Small batch size and personal attention.
Power Mind Institute gives detail about criteria to qualify SSC GD on behalf of SSC GD Coaching in Jaipur.
SSC GD Constable Recruitment Exam: Details
Name of the Exam: SSC GD Constable
Full Form of SSC GD Constable: Staff Selection Commission / General Duty – Constable
Exam Conducting Body: Staff Selection Commission
Exam Mode: Offline & Online (need to choose by the candidate)
SCHEME OF EXAMINATION:
a) Physical Standard Test (PST)
b) Physical Efficiency Test (PET)
c) Written Examination
d) Medical Examination
PHYSICAL STANDARD TEST (PST)
Physical standards laid down for the post of Constable are –
a) Height:
For Males: 170 cms.
For Females: 157 cms.
b) Chest:
For males only – Unexpanded: 80 cms.
– Expanded: Min expansion 5 cms.
c) Weight: For males and Females: Proportionate to height and age as per medical standards.
PHYSICAL EFFICIENCY TEST (PET)
Race

Male

For Female Candidates

5 Kms in 24 Minutes

1.6 Kms in 8½ Minutes
For Ladakh Region:
Race

Male

For Female Candidates

1 A mile in 6½ Minutes

800 Meters in 4 Minutes
WRITTEN EXAMINATION
The Commission will conduct a written examination of candidates qualified in PST/PET in Online mode.
| | | | |
| --- | --- | --- | --- |
| | Subject | No. of Questions | Max. Marks |
| Part-A | General Intelligence & Reasoning | 25 | 25 |
| Part-B | General Knowledge & General Awareness | 25 | 25 |
| Part-C | Elementary Mathematics | 25 | 25 |
| Part-D | English/Hindi | 25 | 25 |
SSC Constable GD Syllabus: - The SSC Constable GD Syllabus for Written Examination will be:
A. General Intelligence & Reasoning: Analytical aptitude and ability to observe and distinguish patterns will be tested through questions principally of non-verbal type. This component may include questions on analogies, similarities and differences, spatial visualization, spatial orientation, visual memory, discrimination, observation, relationship concepts, arithmetical reasoning and figural classification, arithmetic number series, non-verbal series, coding, and decoding, etc.
B. General Knowledge and General Awareness: Questions in this component will be aimed at testing the candidate's general awareness of the environment around him. Questions will also be designed to test knowledge of current events and of such matters of everyday observations and experience in their scientific aspect as may be expected of any educated person. The test will also include questions relating to India and its neighboring countries especially pertaining to sports, History, Culture, Geography, Economic Scene, General Polity, Indian Constitution, and Scientific Research etc. These Questions will be such that they do not require a special study of any discipline.
C. Elementary Mathematics : This paper will include questions on problems relating to Number Systems, Computation of Whole Numbers, Decimals and Fractions and relationship between Numbers, Fundamental arithmetical operations, Percentages, Ratio and Proportion, Averages, Interest, Profit and Loss, Discount, Mensuration, Time and Distance, Ratio and Time, Time and Work, etc.
D. English/Hindi: Candidates' ability to understand Basic English/ Hindi, his basic comprehension would be tested.
ENGLISH : Spot the Error, Fill in the Blanks, Synonyms/Homonyms, Antonyms, Spellings/Detecting Mis-spelt words, Idioms & Phrases, One word substitution, Improvement of Sentences, Active/Passive Voice of Verbs, Conversion into Direct/Indirect narration, Shuffling of Sentence parts, Shuffling of Sentences in a passage, Cloze Passage, Comprehension Passage.
MEDICAL EXAMINATION
Eye Sight:
Visual Acuity Unaided
(NEAR VISION)
Uncorrected Visual Acuity
(DISTANT VISION)

Refraction

Color Vision

Remarks

Better Eye

Worse Eye

Better Eye

Worse Eye

N6

N9

6/6

6/9

Visual Correction of any kind is not permitted even by glasses.

CP-III BY ISHIHARA

In right-handed person, the right eye is better eye and vice-versa.
– Binocular vision is required.
Power Mind Institute is providing the best faculty team which is having 4-5 years' experience and all are having professional degrees. We are proud to say that the Power Mind Institute is best for
SSC GD Coaching in Jaipur.
We are working not for the name but for student's selection in SSC GD. We are working for the purpose to become the most leading institute for SSC GD Coaching in Jaipur. Having a long vision and target the mission, we are continuously doing hard work. Our first priority is the student's selection in SSC GD. That's why it is best SSC GD Coaching in Jaipur.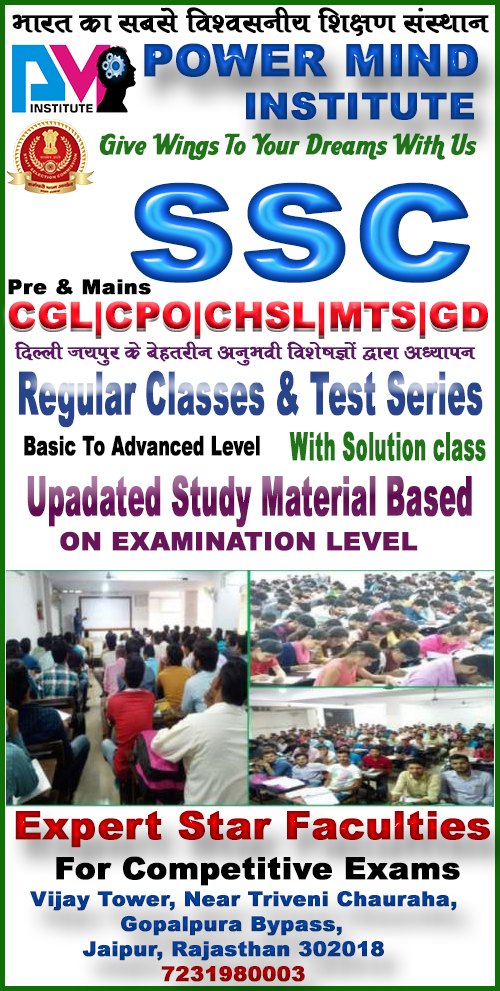 Contact Info.
Address
Vijay Tower, Triveni Chouraha Gopalpura Bypass, Jaipur - 302018
Mobile No.
+91-7231980003
+91-7231980004
+91-7231980005
+91-7231980006